Vendor- Jeffers, Oliver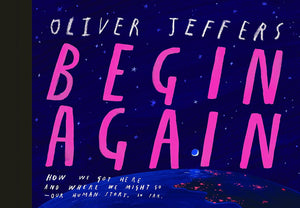 Begin Again: How We Got Here and Where We Might Go - Our Human Story. So Far.
Jeffers, Oliver
Regular price $26.99 Sale

With his bold, iconic art, Oliver Jeffers follows the human path from the dawn of our species through history, sharing profound, sometimes poignant, commentary on our present, and then offers a challenge: Where do we go from here? How can we create new stories and new systems that allow all of humanity to flourish? How can we journey toward a collective and robust future?

Illustrated in his world-renowned art style, Oliver Jeffers' reflection on the patterns that have led us to where we are today, the stories we have governed ourselves by, and those we might adopt going forward, is insightful, moving, and powerful. A must-have for anyone who wants the next generation to inherit a world to be proud of--and a perfect gift to share with those you care about.
Hardcover, Oct 3rd 2023