Vendor- Menashe, Ori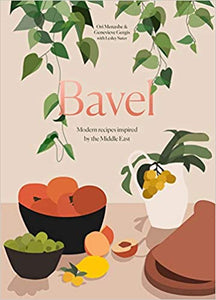 Bavel: Modern Recipes Inspired by the Middle East
Menashe, Ori
Regular price $40.00 Sale
When chef Ori Menashe and pastry chef Genevieve Gergis opened their first Los Angeles restaurant, Bestia, the city fell in love. By the time they launched their second restaurant, Bavel, the love affair had expanded to cooks and food lovers nationwide. 
Bavel,
 the cookbook, invites home cooks to explore the broad and varied cuisines of the Middle East through fragrant spice blends; sublime zhougs, tahini, labneh, and hummus; rainbows of crisp-pickled vegetables; tender, oven-baked flatbreads; fall-off-the-bone meats and tagines; buttery pastries and tarts; and so much more.
Bavel—pronounced bah-VELLE, the Hebrew name for Babel—is a metaphor for the myriad cultural, spiritual, and political differences that divide us. The food of 
Bavel
 tells the many stories of the countries defined as "the Middle East." These recipes are influenced by the flavors and techniques from all corners of the region, and many, such as Tomato with Smoked Harissa, Turmeric Chicken with Toum, and Date-Walnut Tart, are inspired by Menashe's Israeli upbringing and Gergis's Egyptian roots. 
Bavel
 celebrates the freedom to cook what we love without loyalty to any specific country, and represents a world before the region was divided into separate nations. This is cooking without borders.