Vendor- Drndic, Dasa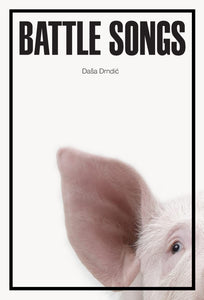 Battle Songs
Drndic, Dasa
Regular price $17.95 Sale
In the 1990s, the unnamed narrator of 
Battle Songs
 leaves Yugoslavia with her daughter Sara to Toronto to start a new life. They, along with other refugees, encounter a new country but not a new home. Book editors sell hotdogs, mathematicians struggle to get by on social security, violinists hawk cheap goods on the street. Years after arriving in Canada, when she thinks no one can hear her, Sara still sings in the shower: 
What can we do to make things better, what can we do to make things better, la-la-la-la.
In true Drndic style, the novel has no one time or place. It is interspersed with stories from the Yugoslav Wars, from Rijeka to Zagreb to Sarajevo―with, as always, the long shadow of the Second World War looming overhead. Her singular layering of details―from lung damage to silk scarves to the family budget to old romances―offers an almost unbearable closeness to the characters and their moment in history. "Wry and kindly, funny, angry, informed and intent on the truth, no voice is quite as blisteringly beautiful as that of Drndic" (Financial Times).
paperback, Feb 7th 2023