Vendor- Pizarro, Jose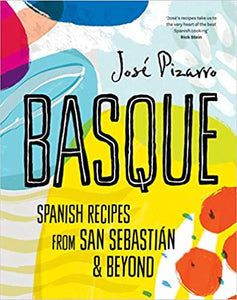 Basque: Spanish Recipes from San Sebastian & Beyond
Pizarro, Jose
Regular price $22.99 Sale
If you visit the Basque Country, you will undoubtedly fall in love. Located on the Spanish-French border in Northern Spain, it is home to some of the world's finest restaurants, spectacular modern architecture and dramatic scenery.

In Basque, the leading Spanish chef, José Pizarro, takes readers on a journey around this magical place, taking inspiration from traditional dishes and local ingredients, and adding his own unique twist. From the delicious bite-sized morsels known as pintxos Basque-style tapas to more hearty main meals and sumptuous desserts, José shows you how easy it is to prepare Spanish food at home. The cuisine of this region is wonderful to share with family and friends but it's also about informality and not being a slave to your stove.

Set to the backdrop of the stunning views of San Sebastián and the rest of the Basque Country, Basque is a culinary jaunt around one of Spain's most colorful and exciting destinations.
Hardcover 3/2/21