Vendor- Riverhead Books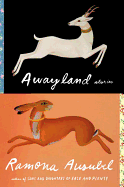 Awayland: Stories, by Ramona Ausubel
Riverhead Books
Regular price $16.00 Sale
Acclaimed for the grace, wit, and magic of her novels, Ramona Ausubel introduces us to a geography both fantastic and familiar in eleven new stories, some of them previously published in The New Yorker and The Paris Review. Elegantly structured, these stories span the globe and beyond, from small-town America and sunny Caribbean islands to the Arctic Ocean and the very gates of Heaven itself. And though some of the stories are steeped in mythology, they remain grounded in universal experiences: loss of identity, leaving home, parenthood, joy, and longing.
 Crisscrossing the pages of Awayland are travelers and expats, shadows and ghosts. A girl watches as her homesick mother slowly dissolves into literal mist. The mayor of a small Midwestern town offers a strange prize, for stranger reasons, to the parents of any baby born on Lenin's birthday. A chef bound for Mars begins an even more treacherous journey much closer to home. And a lonely heart searches for love online--never mind that he's a Cyclops.
 With her signature tenderness, Ramona Ausubel applies a mapmaker's eye to landscapes both real and imagined, all the while providing a keen guide to the wild, uncharted terrain of the human heart.
March 5, 2019