Vendor- Seligman, Katherine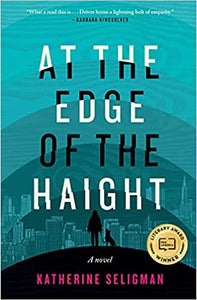 At the Edge of Haight
Seligman, Katherine
Regular price $16.95 Sale
Maddy Donaldo, homeless at twenty, lives with her dog and makeshift family in the hidden spaces of San Francisco's Golden Gate Park. She thinks she knows how to survive and whom to trust until she accidentally witnesses the murder of a young man. Her world is upended as she has to face not only the killer but also the police and then the victim's parents, who desperately want Maddy to tell them about the life their son led after he left home. And in a desire to save her since they could not save their own son, they are determined to have Maddy reunite with her own lost family.
But what makes a family? Is it the people who raised you if they don't have the skills to look after you? Is it the foster parents whose generosity only lasts until things become more difficult? Or is it the family that Maddy has met in the park, young people who also have nowhere else to go?
Told with sensitivity and tenderness and set against the backdrop of a radically changing city, 
At the Edge of the Haight
 is narrated by a young girl just beginning to understand herself. The result is a powerful debut that, much like previous Bellwether winners 
The Leavers
, by Lisa Ko, or Heidi Durrow's 
The Girl Who Fell from the Sky
, grapples with one of the most urgent issues of our day.