Vendor- Norton Young Readers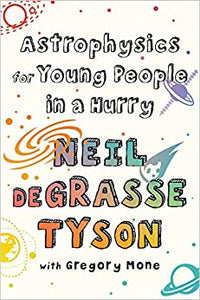 Astrophysics for Young People in a Hurry, by Neil DeGrasse Tyson
Norton Young Readers
Regular price $17.95 Sale
Published February 5, 2019. Age 9-12 years.
From the basics of physics to big questions about the nature of space and time, celebrated astrophysicist and science communicator Neil deGrasse Tyson breaks down the mysteries of the cosmos into bite-sized pieces. Astrophysics for Young People in a Hurry describes the fundamental rules and unknowns of our universe clearly--and with Tyson's characteristic wit, there's a lot of fun thrown in, too.
This adaptation by Gregory Mone includes full-color photos, infographics, and extra explanations to make even the trickiest concepts accessible. Building on the wonder inspired by outer space, Astrophysics for Young People in a Hurry introduces an exciting field and the principles of scientific inquiry to young readers.
REVIEWS:
"Grappling with the scope of the universe…is no simple endeavor, but in this tidy overview, Tyson succeeds with seeming effortlessness."
–San Francisco Chronicle
"With wry humor, keen vision, and abundant humanity, Neil deGrasse Tyson distills the big questions of space, time, and reality into short, insightful chapters."
–Discover
"A winner that every astronomy enthusiast should have on the bookshelf!"
–David J. Eicher, Astronomy
"Lovely book. Last chapter worthy of Carl Sagan himself."
–Richard Dawkins
"Tyson breaks these big ideas into digestible lessons with the humor and charisma he's known and loved for."
–Popular Mechanics
"Tyson's insights are valuable for any leader, teacher, scientist, or educator."
–Forbes
"A great gift for the scientifically inclined (but busy)."
–Chicago Tribune
"Vintage Tyson―engaging, chatty, and littered with historical and linguistic anecdotes."
–Times Higher Education
About the Author:
Neil deGrasse Tyson is an astrophysicist with the American Museum of Natural History, director of its world-famous Hayden Planetarium, host of the hit radio and TV show Startalk, and the New York Times best-selling author of Astrophysics for People in a Hurry.