Vendor- Ramsay, Tilly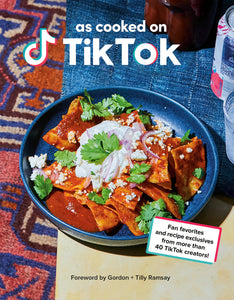 As Cooked on TikTok: Fan favorites and recipe exclusives from more than 40 TikTok creators!
Ramsay, Tilly
Regular price $19.99 Sale
Bring the fun to your kitchen with some of the most popular recipes you know and love from the entertainment platform with more than one billion users globally!

Featuring over sixty recipes from more than forty food creators on the platform,
As Cooked on TikTok
offers something different and delicious on every page. There's The Ultimate Breakfast Sandwich from The Korean Vegan, Grilled Jalapeño Corn Off the Cob from Cooking with Shereen, Ramen Carbonara from Cooking with Lynja, Bang Bang Shrimp from Newt, and Strawberry Cream Puffs from ScheckEats—plus tips and techniques from TikTok star chefs like Ming Tsai, Alex Guarnaschelli, and The Pasta Queen, among others. Each recipe has not only been tested and vetted for home kitchens, but also includes a QR code to scan so you can go straight to that creator's page. It's like making a meal with the creator right in your kitchen with you!