Vendor- Green, John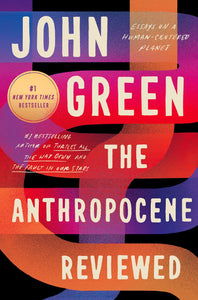 Anthropocene Reviewed: Essays on a Human-Centered Planet
Green, John
Regular price $18.00 Sale
"Gloriously personal and life-affirming. The perfect book for right now." —People
"Essential to the human conversation." —Library Journal, starred review

The Anthropocene is the current geologic age, in which humans have profoundly reshaped the planet and its biodiversity. In this remarkable symphony of essays, bestselling author John Green reviews different facets of the human-centered planet on a five-star scale—from the QWERTY keyboard and sunsets to Canada geese and Penguins of Madagascar. Funny, complex, and rich with detail, the  reviews chart the contradictions of contemporary humanity.

John Green's gift for storytelling shines throughout this masterful collection. The Anthropocene Reviewed is an open-hearted exploration of the paths we forge and an unironic celebration of falling in love with the world.
Paperback, March 21st 2023