Vendor- Varoufakis, Yanis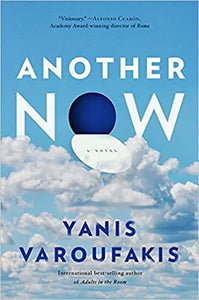 Another Now: A novel
Varoufakis, Yanis
Regular price $17.99 Sale
The year: 2035.

At a funeral for Iris, a revolutionary leftist feminist, Yango is approached by Costa, Iris's closest comrade, who urges him to carry out Iris's last wish: plough into her secret diaries to tell their story. "But", Costa insists "leave out anything that might help Big Tech replicate my technologies!"
 
That night Yango delves into Iris's diaries. In them he discovers a chronicle of how Costa's revolutionary technologies had unveiled an actually existing, fully democratized, postcapitalist society. Suddenly he understands Costa's obsession with the hackers trying to steal his secrets.

So begins Yanis Varoufakis's extraordinary novelistic thought-experiment, where the world-famous economist offers an invigorating and deeply moving vision of an alternative reality.

Another Now tells the story of Costa, a brilliant but deeply disillusioned, computer engineer, who creates a revolutionary technology that will allow the user a "glimpse of a life beyond their dreams" but will not enslave them. But an accident during one of its trial runs unveils a cosmic wormhole where Costa meets his DNA double, who is living in a 2025 very different than the one Costa is living in. 
 
In this parallel 2025 a global hi-tech uprising, begun in the wake of the collapse of 2008, has birthed a post-capitalist world in which work, money, land, digital networks and politics have been truly democratized. Banks have been eliminated, as well as predatory, data-mining digital monopolies; the gig economy is no more; and the young are free to experiment with different careers and to study "non-lucrative topics, from Sumerian pottery to astrophysics." 
 
Intoxicated, Costa travels to England to tell Iris, his old comrade, and her neighbor, Eva, a recovering banker turned neoliberal economics professor, of the parallel universe he has discovered. Costa eventually leads them back to his workshop in America where Iris and Eva meet their own doubles, and confront hard truths about themselves and the daunting political challenge that "the Other Now" presents.   
 
But, as their obsession with the Other Now deepens, time begins to run out, as the wormhole begins to deteriorate and hackers begin to unleash new attacks on Costa's technology. The trio have to make a choice: which 2025 do they want to live in?  
 
Varoufakis has been claiming for a while that we already live in postcapitalist times. That, since the 2008 crisis, capitalism has been morphing into technofeudalism. Another Now, a riveting work of speculative fiction, shows that there is a realistic, democratic alternative to the technofeudalpostcapitalist dystopia taking shape all around us. It also confronts us with the greatest question: how far are we willing to go to bring it about?
Paperback, Sept 14th 2021