Vendor- Paraclette Press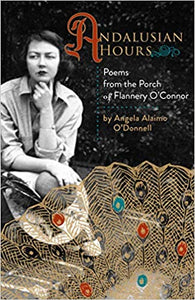 Andalusian Hours: Poems from the Porch of Flannery O'Connor
Paraclette Press
Regular price $19.00 Sale
Andalusian Hours: Poems from the Porch of Flannery O'Connor is a collection of 101 sonnets that channel the voice of celebrated fiction writer, Flannery O'Connor. In these poems, poet and scholar Angela Alaimo O'Donnell imagines the rich interior life Flannery lived during the last fourteen years of her life in rural Georgia on her family's farm named "Andalusia." Each poem begins with an epigraph taken from O'Connor's essays, stories, or letters; the poet then plumbs Flannery's thoughts and the poignant circumstances behind them, welcoming the reader into O'Connor's private world. Together the poems tell the story of a brilliant young woman who enjoyed a bright and promising childhood, was struck with lupus just as her writing career hit its stride, and was forced to return home and live out her days in exile, far from the literary world she loved. By turns tragic and comic, the poems in Andalusian Hours explore Flannery's loves and losses, her complex relationship with her mother, her battle with her illness and disability, and her passion for her writing. The poems mark time in keeping with the liturgical hours O'Connor herself honored in her prayer life and in her quasi-monastic devotion to her vocation and to the home she learned to love, Andalusia.
Avid readers of Flannery O'Connorwill find Andalusian Hours a stunning, thrilling, gloriouscollection of poems inspired by Flannery's own biography and her smart, witty,yearning reflections on things large and small.  Angela Alaimo O'Donnellhas accomplished an amazing thing here, channeling Flannery's voice and by akind of alchemy reproducing the gold of a mostly hidden life that is both deeplyrevealing and utterly convincing.  This is, for me, O'Donnell's finestbook so far.
 -Ron Hansen, author of Mariette In Ecstasy.
 
Get ready to delight in, yes, a full cento of gorgeous,endlessly fascinating and endlessly varied sonnets in a no-nonsense Georgia-boundidiom, this two-year labor of real love, where one of our best contemporaryCatholic poets has managed -thank God--to channel the wit, humor, and profoundspirituality of our own saint Flannery O'Connor, broken and flawed like therest of us, whether we know it or not, and yet risen now once again in thesepoems and crying out, startling us into a brilliant new reality, like one ofthose blue peacocks of hers unfolding a hundred eyes before us.
 -Paul Mariani, author of TheMystery of It All: The Vocation of Poetry in the Twilight of Modernity.
Angela Alaimo O'Donnell teaches English, Creative Writing, and courses in American Catholic Studies at Fordham University in New York City. 
Released April 1, 2020