Vendor- Arcadia Press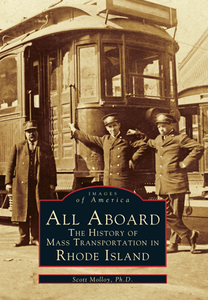 All Aboard: The History of Mass Transportation In Rhode Island, by Scott Molloy Ph.D.
Arcadia Press
Regular price $21.99 Sale
All Aboard: The History of Mass Transportation in Rhode Island covers the period from the Civil War to the creation of the Rhode Island Public Transit Authority (RIPTA). Each of the seven chapters examines a particular form of travel and its impact on the people and surrounding area. From the horse-drawn omnibus, horse car, and cable tramway to the rumbling buses of modern times, this book welcomes readers to explore various types of bygone transport. As well as a cornucopia of transportation street images, the book reproduces documents, badges, and tokens to provide a comprehensive glimpse of yesteryear; it includes little known facts and stories of life on the road. Learn how the horse car beat out the old-fashioned omnibus to dominate city streets during the Gilded Age, and how the electric streetcar quickly replaced the horse car by the 1890s. Discover the joy that grandparents experienced taking an open bloomer car to Rocky Point or Roger Williams Park. See the rubber-tired, trackless trolleys that ran on electric current from overhead wires. Explore the action of the 1902 railway strike in Providence and Pawtucket that led to the mobilization of the state militia.