Vendor- Grist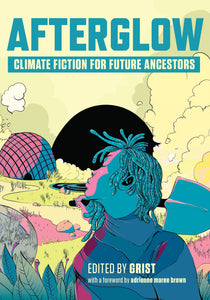 Afterglow: Climate Fiction for Future Ancestors
Grist
Regular price $16.99 Sale
Afterglow is a stunning collection of original short stories in which writers from many different backgrounds envision a radically different climate future. Published in collaboration with Grist, a nonprofit media organization dedicated to telling stories of climate solutions, these stirring tales expand our ability to imagine a better world.
Afterglow draws inspiration from a range of cutting-edge literary movements including Afrofuturism, hopepunk, and solarpunk—genres that uplift equitable climate solutions and continued service to one's community, even in the face of despair. The Indigenous, Latinx, Asian, disabled, feminist, and queer voices in this collection imagine intersectional worlds in which no community is left behind. Whether through abundance or adaptation, reform, or a new understanding of survival, these stories offer flickers of hope, even joy, as they provide a springboard for exploring how fiction can help create a better reality.
Afterglow welcomes a diverse range of new voices into the climate conversation to envision the next 180 years of equitable climate progress. A creative work rooted in the realities of our present crisis, Afterglow presents a new way to think about the climate emergency—one that blazes a path to a clean, green, and more just future.
Paperback, Feb 7th 2023