Vendor- Umah-Shaylor, Lerato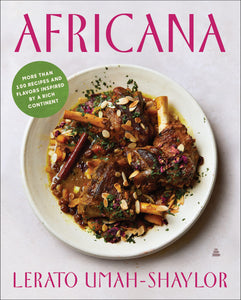 Africana: More than 100 Recipes and Flavors Inspired by a Rich Continent
Umah-Shaylor, Lerato
Regular price $37.50 Sale
Food writer and cook Lerato Umah-Shaylor's magnificent cookbook is a delicious eating tour of the African continent, introducing vibrant and varied cuisines that are rich in flavor, diverse in culture, and steeped in tradition.
Lerato adds her own modern twist and inventive style to traditional African dishes that have been passed down and enjoyed for generations, and combines these recipes with personal stories of Africa infused with her delectable sense of adventure.
With Africana, home cooks can learn how to create some of the most iconic African dishes, from Nigeria to Madagascar and Morocco to South Africa. Here are more than 100 recipes to delight and inspire, such as Spice Island Coconut Fish Curry, Harissa Leg of Lamb with Hibiscus, Senegalese Yassa, Tunisian Tagine, South African Malva Pudding, and the secret to the perfect Jollof.
A feast for the senses, bursting with flavor, and offering a sense of wanderlust, Africana will bring the magic of the continent to any kitchen.
Hardcover, March 7th 2023