Vendor- Liu, Glory M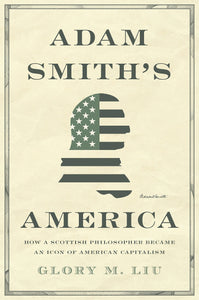 Adam Smith's America: How a Scottish Philosopher Became an Icon of American Capitalism
Liu, Glory M
Regular price $35.00 Sale
Originally published in 1776, Adam Smith's 
The Wealth of Nations

 
was lauded by America's founders as a landmark work of Enlightenment thinking about national wealth, statecraft, and moral virtue. Today, Smith is one of the most influential icons of economic thought in America. Glory Liu traces how generations of Americans have read, reinterpreted, and weaponized Smith's ideas, revealing how his popular image as a champion of American-style capitalism and free markets is a historical invention.

Drawing on a trove of illuminating archival materials, Liu tells the story of how an unassuming Scottish philosopher captured the American imagination and played a leading role in shaping American economic and political ideas. She shows how Smith became known as the father of political economy in the nineteenth century and was firmly associated with free trade, and how, in the aftermath of the Great Depression, the Chicago School of Economics transformed him into the preeminent theorist of self-interest and the miracle of free markets. Liu explores how a new generation of political theorists and public intellectuals has sought to recover Smith's original intentions and restore his reputation as a moral philosopher.

Charting the enduring fascination that this humble philosopher from Scotland has held for American readers over more than two centuries, 
Adam Smith's America
 shows how Smith continues to be a vehicle for articulating perennial moral and political anxieties about modern capitalism.