Vendor- Lyall, Casey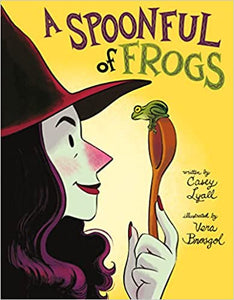 A Spoonful of Frogs
Lyall, Casey
Regular price $17.99 Sale
A witch's favorite treat is frog soup. Luckily, it's healthy and easy to make. To give it that extra kick and a pop of color, the key ingredient is a spoonful of frogs. But how do you keep the frogs on the spoon? They hop, they leap, they hide . . . and they escape. What is a poor witch to do?
Casey Lyall is a master of comedic timing with her deceptively simple and energetic text, and Caldecott Honor winnerVera Brosgol's vibrant, hilarious illustrations make the witch—and the frogs!—practically leap off the page. The solution to the witch's dilemma will surprise and delight young readers and their parents alike.
Teeming with laugher and hijinks, A Spoonful of Frogs is pure fun from beginning to end. A must-have for young readers, parents, witches, frog-lovers, and aspiring chefs. 
Hardcover, July 19th 2022