Vendor- Curtis, Cathy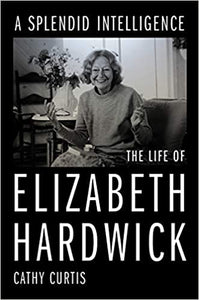 A Splendid Intelligence: The Life of Elizabeth Hardwick
Curtis, Cathy
Regular price $35.00 Sale
Born in Kentucky, Elizabeth Hardwick left for New York City on a Greyhound bus in 1939 and quickly made a name for herself as a formidable member of the intellectual elite. Her eventful life included stretches of dire poverty, romantic escapades, and dustups with authors she eviscerated in The New York Review of Books, of which she was a cofounder. She formed lasting friendships with literary notables―including Mary McCarthy, Adrienne Rich, and Susan Sontag―who appreciated her sharp wit and relish for gossip, progressive politics, and great literature.
Hardwick's life and writing were shaped by a turbulent marriage to the poet Robert Lowell, whom she adored, standing by faithfully through his episodes of bipolar illness. Lowell's decision to publish excerpts from her private letters in The Dolphin greatly distressed Hardwick and ignited a major literary controversy. Hardwick emerged from the scandal with the clarity and wisdom that illuminate her brilliant work―most notably Sleepless Nights, a daring, lyrical, and keenly perceptive collage of reflections and glimpses of people encountered as they stumble through lives of deprivation or privilege.
A Splendid Intelligence finally gives Hardwick her due as one of the great postwar cultural critics. Ranging over a broad territory―from the depiction of women in classic novels to the civil rights movement, from theater in New York to life in Brazil, Kentucky, and Maine―Hardwick's essays remain strikingly original, fiercely opinionated, and exquisitely wrought. In this lively and illuminating biography, Cathy Curtis offers an intimate portrait of an exceptional woman who vigorously forged her own identity on and off the page.