Vendor- Adebayo, Ayobami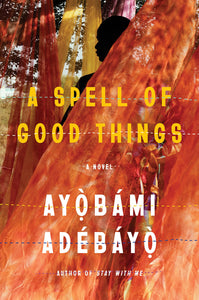 A Spell of Good Things
Adebayo, Ayobami
Regular price $28.00 Sale
Eniola is tall for his age, a boy who looks like a man. Because his father has lost his job, Eniola spends his days running errands for the local tailor, collecting newspapers, begging when he must, dreaming of a big future.

Wuraola is a golden girl, the perfect child of a wealthy family. Now an exhausted young doctor in her first year of practice, she is beloved by Kunle, the volatile son of an ascendant politician.

When a local politician takes an interest in Eniola and sudden violence shatters a family party, Wuraola's and Eniola's lives become intertwined. In her breathtaking second novel, Ayọ̀bámi Adébáyọ̀ shines her light on Nigeria, on the gaping divide between the haves and the have-nots, and the shared humanity that lives in between.
Hardcover, Feb 7th 2023