Vendor- Elkins-Tanton, Lindy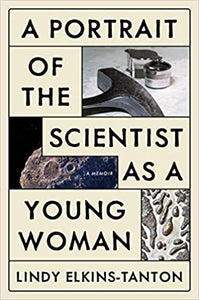 A Portrait of the Scientist as a Young Woman
Elkins-Tanton, Lindy
Regular price $29.99 Sale
Deep in the asteroid belt between Mars and Jupiter, three times farther from the sun than the Earth is, orbits a massive asteroid called (16) Psyche. It is one of the largest objects in the belt, potentially containing the equivalent of the world's total economy in metals, though they cannot be brought back to Earth. But (16) Psyche has the potential to unlock something even more valuable: the story of how planets form, and how our planet formed. Soon we will find out, thanks to the extraordinary work of Lindy Elkins-Tanton, the Principal Investigator of NASA's $800 million Psyche mission, and the second woman ever to be awarded a major NASA space exploration contract.
The journey that brought her to this place is extraordinary.Amid a childhood of terrible trauma, Elkins-Tanton fell in love with science as a means of healing and consolation. But still she wondered, was forced to wonder: as a woman, was science "for her"? In answering that question, she takes us from the wilds of the Siberian tundra to the furthest reaches of outer space, from the Mayo Clinic, where Elkins-Tanton battled ovarian cancer while writing the Psyche proposal, to NASA's Jet Propulsion Laboratory, where her team brought that proposal to life.
A Portrait of the Scientist as a Young Woman is a beautifully-constructed memoir that explores how a philosophy of life can be built from the tools of scientific inquiry. It teaches us how to approach difficult problems by asking the right questions and truly listening to the answers—and how we may find meaning through exploring the wonders of the universe around us.
Hardcover, June 7th 2022