Vendor- Kalfar, Jaroslav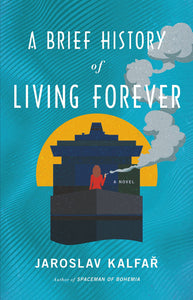 A Brief History of Living Forever
Kalfar, Jaroslav
Regular price $28.00 Sale
When Adéla discovers she has a terminal illness, she leaves behind her native Czech village for a chance at reuniting in America with Tereza, the daughter she gave up at birth, decades earlier. But the country Adéla experienced as a young woman, when she eloped with a filmmaker and starred in his cult sci-fi movie, has changed entirely. In 2030, America is ruled by an authoritarian government increasingly closed off to the rest of the world.

Tereza, the star researcher for VITA, a biotech company hellbent on discovering the key to immortality, is overjoyed to meet her mother, with whom she forms an instant, profound connection. But when their time together is cut short by shocking events, Tereza must uncover VITA's alarming activity in the wastelands of what was once Florida, and persuade the Czech brother she's never met to join her in this odds-defying adventure.      
 
Narrated from the beyond by Adéla's restless spirit, A Brief History of Living Forever is a high-wire act of storytelling from a writer "booming with vitality and originality," whose "voice is distinct enough to leave tread marks" (New York Times). By turns insightful, moving, and funny, the novel not only confirms Jaroslav Kalfař's boundless powers of invention but also exults in the love between a mother and her daughter, which neither space nor time can sever.
Hardcover, March 28th 2023