Vendor- NYRB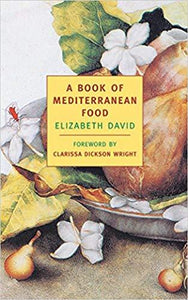 A Book of Mediterranean Food, Elizabeth David. Intro by Clarissa Wright (New York Review Books Classics)
NYRB
Regular price $16.95 Sale
Long acknowledged as the inspiration for such modern masters as Julia Child and Claudia Roden, A Book of Mediterranean Food is Elizabeth David's passionate mixture of recipes, culinary lore, and frank talk. In bleak postwar Great Britain, when basics were rationed and fresh food a fantasy, David set about to cheer herself --and her audience-- up with dishes from the south of France, Italy, Spain, Portugal, Greece, and the Middle East. Some are sumptuous, many are simple, most are sublime.
Elizabeth David (1913-1992) was brought up in an outwardly idyllic seventeenth-century Sussex farmhouse, Wootton Manor, and her interest in cooking may well have been a response to the less-than-stellar meals on offer there. During World War II she lived in France, Italy, Greece, and Egypt (where she worked for the Ministry of Information), and spent much of her time researching and cooking local fare. On her return to London in 1946, David began to write cooking articles, and in 1949 the publisher John Lehmann offered her a hundred-pound advance for A Book of Mediterranean Food. When it came out the following year, it proved a revelation to Anglo-Saxon appetites. Summer Cooking (1955, also published by NYRB Classics) consolidated her position as the foremost food writer of her day. David continued to be a student of her art throughout her life. Always an innovative force, she even persuaded Le Creuset to extend its range of cookware colors by pointing at a pack of Gauloises. "That's the blue I want," she said. Elizabeth David was awarded a CBE, made a Chevalier de l'Ordre de Mérite Agricole, and—the honor that pleased her most—elected a Fellow of the Royal Society of Literature.

Clarissa Dickson Wright is best known as half of TV's Two Fat Ladies duo and cowrote that series' cookbooks. Her other books include The Haggis: A Little History (1996) and Food: What We Eat and How We Eat (1999).