Vendor- Merkin, Daphne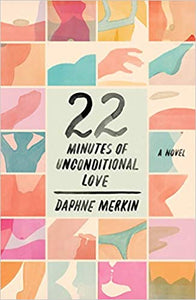 22 Minutes of Unconditional Love
Merkin, Daphne
Regular price $26.00 Sale
A novel of unsurpassed candor, punctuated by bold ruminations on love, marriage, family, sex, gender, and relationships, 22 Minutes of Unconditional Love depicts one woman's psychological descent into sexual captivity. This is the story of the extremes to which she will go to achieve erotic bliss―and of her struggle to regain her soul.

As Daphne Merkin's audacious new novel opens, a wife and mother looks back at the moment when her life as a young book editor is upended by a casual encounter with an intriguing man who seems to intuit her every thought.

Convinced she's found the one, Judith Stone succumbs to the push and pull of her sexual entanglement with Howard Rose, constantly seeking his attention and approval. That is, until she realizes that beneath his erotic obsession with her, Howard is intent on obliterating any sense of self she possesses. As Merkin writes, his was "the allure of remoteness,
affection edged in ice." Escaping Howard's grasp―and her own perverse enjoyment of being under his control―will test the limits of Judith's capacity to resist the siren call of submission.

Narrated by Judith in a time before the #MeToo movement, 22 Minutes of Unconditional Love charts the persistent hold the past has on us and the way it shapes our present.
Hardcover - July 7, 2020