Vendor- Mendez, Yamile Saied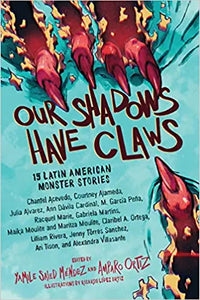 Our Shadows Have Claws: 15 Latin American Monster Stories
Mendez, Yamile Saied
Regular price $19.99 Sale
From zombies to cannibals to death incarnate, this cross-genre anthology offers something for every monster lover. In 
Our Shadows Have Claws
, bloodthirsty vampires are hunted by a quick-witted slayer; children are stolen from their beds by "el viejo de la bolsa" while a military dictatorship steals their parents; and anyone you love, absolutely 
anyone
, might be a shapeshifter waiting to hunt.
 
The worlds of these stories are dark but also magical ones, where a ghost-witch can make your cheating boyfriend pay, bullies are brought to their knees by vicious wolf-gods, a jar of fireflies can protect you from the reality-warping magic of a bruja—and maybe you'll even live long enough to tell the tale. Set across Latin America and its diaspora, this collection offers bold, imaginative stories of oppression, grief, sisterhood, first love, and empowerment.
 
Full contributor list: Chantel Acevedo, Courtney Alameda, Julia Alvarez, Ann Dávila Cardinal, M. García Peña, Racquel Marie, Gabriela Martins, Yamile Saied Méndez, Maika Moulite and Maritza Moulite, Claribel A. Ortega, Amparo Ortiz, Lilliam Rivera, Jenny Torres Sanchez, Ari Tison, and Alexandra Villasante.