Vendor- Browne, Mahogany L.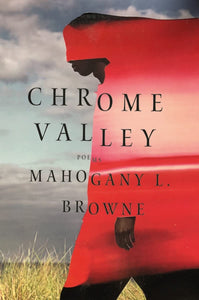 Chrome Valley
Browne, Mahogany L.
Regular price $26.95 Sale
Boldly lyrical and fiercely honest, Mahogany L. Browne's 
Chrome Valley
 offers an intricate portrait of Black womanhood in America. "We praise their names / & the hands that write / Praise the mouth that speaks," she writes in tribute to those who came before her.

Browne captures a quintessential girlhood through the pleasures and pangs of young love: the thrill of skating hip to hip at the roller rink, the heat of holding hands in the dark, and, sometimes, the sting of a palm across the cheek. Friendship, too, comes with its own complex yearnings: "you ain't had freedom / 'til you climb on bus 62 / & head to the closest mall / for a good seat at the girl fight."

Reflections of Browne's mother, Redbone, bolster the collection with moments of unwavering strength: "give me my mother's bone structure / & her gap tooth slaughter / give me her spine―Redbone got a spine for the world." Other moments explore the inherent anxieties shared among Black mothers, rhythmically intoning names like the tolling of a church bell: "Because Kadiatou Diallo / Because Sybrina Fulton / Because Valeria Bell / Because Mamie Till."

The characters in 
Chrome Valley
 grapple with the legacies of inherited trauma but also revel in the beauty of the undaunted self-determination passed down from Black woman to Black woman. Transcendent and grounded, funny and furious, 
Chrome Valley
 brings depth to a movement, solidifying Mahogany L. Browne as one of the most significant poetic voices of our time.