Vendor- Riggle, Nick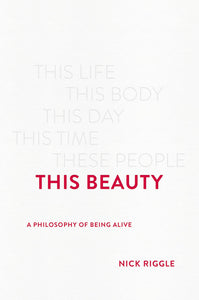 This Beauty: A Philosophy of Being Alive
Riggle, Nick
Regular price $28.00 Sale
You didn't choose to live this life, in this body, in these conditions—this delicate and difficult life. Yet when you consider that your existence is fleeting, an inspired sense of urgency can spring forth. Say you often hike with a friend. One day, they propose that you skydive instead. You're wavering, and they insist:
 Come on. You only live once!
 And soon you're flying through the air. Why embrace a life you did not choose?

In 
This Beauty
, philosopher Nick Riggle explores the beauty of being alive by investigating the things we say to inspire ourselves and each other: 
seize the day, treat yourself,
you only live once
. These clichés are at best vague, at worst stupid. They imply that you should do something wild with your life because your life is precious, a little like saying you should go swimming with your grandfather's watch because it is irreplaceable.  

Drawing on insights from aesthetics and his experiences as a professional skater and new father, Riggle shows us how we can understand the idea that life is beautiful enough to bear repeating. Insightful and deeply humane, 
This Beauty
 offers a personal and searching inquiry into the mystery of life's beauty.