Vendor- Gosden, Chris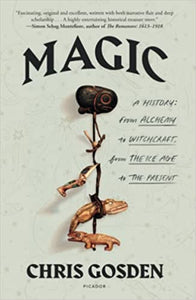 Magic: a History: from Alchemy to Witchcraft, from the Ice Age to the Present
Gosden, Chris
Regular price $20.00 Sale

Three great strands of belief run through human history: Religion is the relationship with one god or many gods, masters of our lives and destinies. Science distances us from the world, turning us into observers and collectors of knowledge. And magic is direct human participation in the universe: we have influence on the world around us, and the world has influence on us.

Over the last few centuries, magic has developed a bad reputation―thanks to the unsavory tactics of shady practitioners, and to a successful propaganda campaign on the part of religion and science, which denigrated magic as backward, irrational, and "primitive." In Magic, however, the Oxford professor of archaeology Chris Gosden restores magic to its essential place in the history of the world―revealing it to be an enduring element of human behavior that plays an important role for individuals and cultures. From the curses and charms of ancient Greek, Roman, and Jewish magic, to the shamanistic traditions of Eurasia, indigenous America, and Africa; from the alchemy of the Renaissance to the condemnation of magic in the colonial period and the mysteries of modern quantum physics―Gosden's startling, fun, and colorful history supplies a missing chapter of the story of our civilization.

Drawing on decades of research around the world―touching on the first known horoscope, a statue ordered into exile, and the mystical power of tattoos―Gosden shows what magic can offer us today, and how we might use it to rethink our relationship with the world. Magic is an original, singular, and sweeping work of scholarship, and its revelations will leave a spell on the reader.
Paperback, Oct 12th 2021