Vendor- Kreike, Emmanuel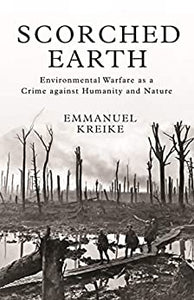 Scorched Earth: Environmental Warfare Against Humanity and Nature
Kreike, Emmanuel
Regular price $29.95 Sale
The environmental infrastructure that sustains human societies has been a target and instrument of war for centuries, resulting in famine and disease, displaced populations, and the devastation of people's livelihoods and ways of life. Scorched Earth traces the history of scorched earth, military inundations, and armies living off the land from the sixteenth to the twentieth century, arguing that the resulting deliberate destruction of the environment―"environcide"―constitutes total war and is a crime against humanity and nature.

In this sweeping global history, Emmanuel Kreike shows how religious war in Europe transformed Holland into a desolate swamp where hunger and the black death ruled. He describes how Spanish conquistadores exploited the irrigation works and expansive agricultural terraces of the Aztecs and Incas, triggering a humanitarian crisis of catastrophic proportions. Kreike demonstrates how environmental warfare has continued unabated into the modern era. His panoramic narrative takes readers from the Thirty Years' War to the wars of France's Sun King, and from the Dutch colonial wars in North America and Indonesia to the early twentieth century colonial conquest of southwestern Africa.

Shedding light on the premodern origins and the lasting consequences of total war, Scorched Earth explains why ecocide and genocide are not separate phenomena, and why international law must recognize environmental warfare as a violation of human rights.
Paperback, Oct 25th 2022