Vendor- Gallery Books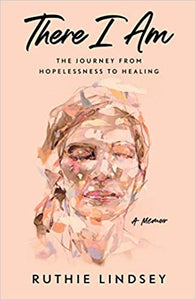 There I Am: The Journey from Hopelessness to Healing, A Memoir, by Ruthie Lindsey
Gallery Books
Regular price $26.00 Sale
Brain on Fire meets Carry On, Warrior, There I Am is an arresting inspirational memoir about one woman's journey from chronic pain and hopelessness to finding joy, redemption, and healing.

At seventeen years old, Ruthie Lindsey is hit by an ambulance near her home in rural Louisiana. She's given a five percent chance of survival and one percent chance of walking again. One month later after a spinal fusion surgery, Ruthie defies the odds, leaving the hospital on her own two feet.

Just a few years later, newly married and living in Nashville, Ruthie begins to experience debilitating pain. Her case confounds doctors and after numerous rounds of testing, imaging, and treatment, they prescribe narcotic painkillers—lots of them. Ruthie has become bedridden, dependent on painkillers, and hopeless, when an X-ray reveals that the wire used to fuse her spine is piercing her brain stem. Without another staggeringly expensive experimental surgery, she could well become paralyzed, but in many ways, she already is.

Ruthie goes into the hospital in chronic pain, dependent on prescription painkillers, and leaves that way. She can still walk, but has no idea where she's going. As her life unravels, Ruthie returns home to Louisiana and sets out on a journey to learn joy again. She trades fentanyl for sunsets and morphine for wildflowers, weaning herself off of the drugs and beginning the process of healing—of coming home to her body.

Raw and redemptive, There I Am is not just about the magic of optimism, but the work of it. Ruthie's extraordinary memoir urges us to unlearn the stories of brokenness that we tell ourselves and embrace the wholeness, joy, and healing that lives inside all of us.
"Ruthie Lindsey's voice speaks directly to the heart. There I Am is a testament to the things that break us, heal us, and make us who we are."
—Glennon Doyle, author of #1 New York Times Bestseller Love Warrior and founder of Together Rising 

"Ruthie has polished and shined and chiseled her great big life into this precious jewel for us . . . Reading her phenomenal memoir is like going on a walk with a best friend and listening to a life-changing speech at the same time: it's equal parts familiar and profound, warm and insightful, comforting and challenging, relatable and unlike anything you've read before."
—Mari Andrew, New York Times bestselling author of Am I There Yet?  

"This book is an incredible gift. One of the most moving life stories I've ever read. Or heard of. It has reframed how I see pain, death, and the whole experience of life. I immediately put it up there with the great memoirs, The Glass Castle, Wild, and Educated."
—Jedidiah Jenkins, New York Times bestselling author of To Shake the Sleeping Self

"Consistently readable and inspirational, Lindsey keeps readers in suspense about whether she will be able to fully enjoy her life. At the end, the author addresses readers directly and asks them to focus on healing what is broken in their own lives. Illness memoirs from noncelebrities often get lost in the stacks. This one deserves greater attention."
—Kirkus Reviews
Hardcover. April 21, 2020