Vendor- Hay House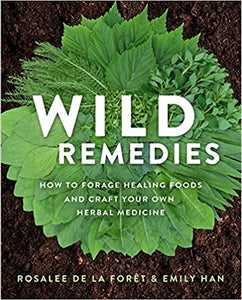 Wild Remedies: How to Forage Healing Foods and Craft Your Own Herbal Medicine, by Rosalee de la Foret & Emily Han
Hay House
Regular price $29.99 Sale
That's not a weed-it's a healing meal! Learn how to use wild plants for food and medicine in this illustrated guide from two expert herbalists.

Millions of people are interested in natural and holistic health, yet many are missing out on the key ingredient: Nature itself!
Rekindle your connection with the earth as you craft your own herbal medicine with 75 delicious recipes and powerful healing remedies. Herbalists Rosalee de la Forêt and Emily Han expertly guide you through the benefits of two dozen of the most important and commonly found wild plants-many of which you can easily grow in your own garden, if foraging isn't right for you. Detailed illustrations and beautiful photography ensure that you won't make a plant-identification misstep as you learn how to tend and properly harvest the plant medicine growing right in your own neighborhood.
After reading Wild Remedies, you'll never look at your backyard, a public park, or any green space in the same way again. Instead of "weeds," you'll see delicious foods like Dandelion Maple Syrup Cake, Nettle Frittata, and Chickweed Pesto. You will revel in nature's pharmacy as you make herbal oils, salves, teas, and many more powerful remedies in your own kitchen.
I was intrigued and captivated from the very first paragraphs. Beautifully written, Wild Remediesabounds with plant lore, wisdom, and instruction. The authors have created a deeply thoughtful, insightful, and interactive book that enables readers to not only identify and forage wild foods but also to create a deepening relationship with nature and the world of plants. As an added bonus, the book is gorgeously illustrated with several photographs of each plant, making it easier to identify them through the seasons. And the recipes provided with each plant are out-of-this-world good! - Rosemary Gladstar, herbalist 

Wild Remedies is a gorgeous book with tantalizing recipes for healthy foods and healing medicines. The authors go beyond mere consumption of herbs to nurture reciprocal relationships with plants and strengthen community connections. In effect, Wild Remedies is a prescription to heal people and planet together. - Thomas J. Elpel, author of Botany in a Day and Foraging the Mountain West 

In Wild Remedies, Emily Han and Rosalee de la Forêt accomplish the most important thing a book exploring herbalism can do: framing it not as simply the use of herbs and supplements, but as a craft rooted in a direct relationship between people, plants, and the land they live upon. With this book in your hands, the plants at your feet will open into a whole new world. - jim mcdonald, herbalist, www.herbcraft.org

I've been studying wild edible and medicinal plants for decades, and I learned a lot reading this book. So if you want to use some of our best medicinal wild plants, this book is a great choice.
- "Wildman" Steve Brill, author of Identifying and Harvesting Edible and Medicinal Plants in Wild (and Not So Wild) Places 
Rosalee de la Forêt is passionate about helping people discover the world of herbalism and natural health. She is a Registered Herbalist with the American Herbalists Guild, and as an herbal consultant she helps people find natural solutions to their chronic health problems. She also teaches extensively about herbalism internationally and as the Education Director at LearningHerbs. Rosalee is the author of Alchemy of Herbs: Transform Everyday Ingredients Into Foods and Remedies That Heal, as well as numerous articles, e-books, and two online courses: The Taste of Herbs and Herbal Cold Care.

Emily Han From teaching nature workshops to creating botanical cocktail recipes, Emily Han helps people slow down, nurture their senses, and cultivate their connection to the earth. Her work as a naturalist, herbalist, writer, and educator focuses on intersections of nature, culture, and food. She is the author of Wild Drinks & Cocktails (Fair Winds Press, 2015), the Communications Director for LearningHerbs, and cofounder of the International Food Swap Network. Emily is a Certified California Naturalist and Master Food Preserver. She also studied art history at Hampshire College and library and information science at San José State University. Emily lives Los Angeles with her husband Gregory. As citizen scientists, their claim to fame is discovering two previously unknown populations of snails in their backyard.
Paperback. April 7, 2020