Vendor- Chronicle Books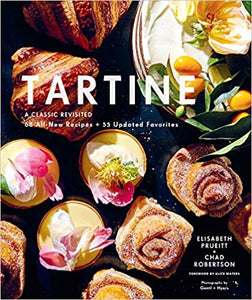 Tartine: A Classic Revisited (68 All-New Recipes + 55 Updated Favorites), by Elizabeth M. Prueitt
Chronicle Books
Regular price $40.00 Sale
"Elisabeth Prueitt and Chad Robertson of Tartine have grown their famed San Francisco bakery into a small empire, with branches in Los Angeles and Seoul, South Korea, and have written five cookbooks between them. Now, 13 years after the release of their celebrated first book, "Tartine," they've gone back to their roots with "Tartine: A Classic Revisited". It features 68 new recipes, including their beloved morning buns (a sweet roll made with croissant dough and filled with orange-scented cinnamon sugar), as well as updates to older ones to reflect current tastes. Alternative flours abound, and more modern flavors run through traditional pastries. The recipes can be involved, and produce absolute showstoppers, but the book is also full of more accessible classics like shortbread and brownies." - New York Times, A Best Fall Cookbook of 2019

"This revised edition of the beloved baking bible is basically a brand new book, with 55 updated recipes you may already know and love (but better), plus 68 totally new ones, including gluten-free options and the sought-after recipe for the bakery's lauded morning bun. As you can tell, the photographs are stunning too." —Chowhound

"Tartine changed the pastry scene in San Francisco, and it quickly became a must-stop in the city. Their superlative croissants were the star, but their other treats (justifiably) won accolades as well. The original Tartine cookbook took us into their kitchen, and Elisabeth and Chad's exciting update adds all-new recipes, gluten-free versions, and gorgeous photos to their classic baking book. If you can't make it to the bakery (but even if you can), you'll want to add Tartine: A Classic Revisited to your collection!"
-David Lebovitz, author of My Paris Kitchen and Drinking French.
This brilliantly revisited and beautifully rephotographed book is a totally updated edition of a go-to classic for home and professional bakers—from one of the most acclaimed and inspiring bakeries in the world. Tartine offers more than 50 new recipes that capture the invention and, above all, deliciousness that Tartine is known for—including their most requested recipe, the Morning Bun. Favorites from the original book are here, too, revamped to speak to our tastes today and to include whole-grain and/or gluten-free variations, as well as intriguing new ingredients and global techniques. More than 150 drop-dead gorgeous photographs from acclaimed team Gentl + Hyers make this compendium a true collectible and must-have for bakers of all skill levels.
Elisabeth Prueitt is a cookbook author and the cofounder of Tartine Bakery and Tartine Manufactory. She lives in San Francisco.
October 1, 2019