Vendor- Assaf, Vittorio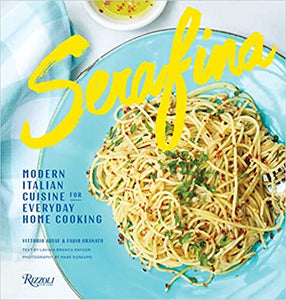 Serafina: Modern Italian Cuisine for Everyday Home Cooking
Assaf, Vittorio
Regular price $39.95 Sale
Serafina was conceived while Vittorio Assaf and Fabio Granato were lost at sea in a small sailboat. Managing violent weather and severe hunger, the two stranded friends vowed to open a restaurant serving the best pasta and pizza in the world if they were to survive their ordeal. In 1995, they fulfilled their promise by launching the highly acclaimed Serafina in New York City. Following its success, they have gone on to open restaurants around the world from Dubai to Japan.
 
 In Serafina, the cookbook, easy-to-follow steps bring to the table centuries of regional culinary history and local traditions, including knowledge that generations of farmers, fishermen, tomato growers, orchard planters, olive oil millers, bread bakers, and wine makers have devoted to their craft. Italian cooking centers on the appreciation of quality ingredients from both land and sea. Farm to table is the central tenet of Italian cooking and this translates to simple and immensely rewarding dishes. This is what Vittorio and Fabio have embraced with passion and joy.
 
 With more than 100 delicious takes on traditional recipes, this lavishly illustrated book is a must-have for home cooks interested in modern Italian recipes and curious to delve deeper into regional cuisine.
Hardcover, mar 22nd 2022