Vendor- Simon & Schuster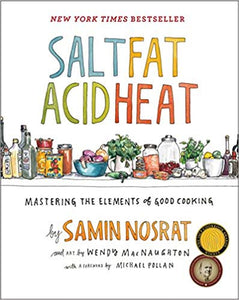 Salt, Fat, Heat, Acid: Mastering the Elements of Good Cooking, by Samin Nosrat. Foreword by Michael Pollan
Simon & Schuster
Regular price $37.50 Sale
A visionary new master class in cooking that distills decades of professional experience into just four simple elements, from the woman declared "America's next great cooking teacher" by Alice Waters.

In the tradition of The Joy of Cooking and How to Cook Everything comes Salt, Fat, Acid, Heat, an ambitious new approach to cooking by a major new culinary voice. Chef and writer Samin Nosrat has taught everyone from professional chefs to middle school kids to author Michael Pollan to cook using her revolutionary, yet simple, philosophy. Master the use of just four elements—Salt, which enhances flavor; Fat, which delivers flavor and generates texture; Acid, which balances flavor; and Heat, which ultimately determines the texture of food—and anything you cook will be delicious. By explaining the hows and whys of good cooking, Salt, Fat, Acid, Heat will teach and inspire a new generation of cooks how to confidently make better decisions in the kitchen and cook delicious meals with any ingredients, anywhere, at any time.

Echoing Samin's own journey from culinary novice to award-winning chef, Salt, Fat Acid, Heat immediately bridges the gap between home and professional kitchens. With charming narrative, illustrated walkthroughs, and a lighthearted approach to kitchen science, Samin demystifies the four elements of good cooking for everyone. Refer to the canon of 100 essential recipes—and dozens of variations—to put the lessons into practice and make bright, balanced vinaigrettes, perfectly caramelized roast vegetables, tender braised meats, and light, flaky pastry doughs.

Featuring 150 illustrations and infographics that reveal an atlas to the world of flavor by renowned illustrator Wendy MacNaughton, Salt, Fat, Acid, Heat will be your compass in the kitchen. Destined to be a classic, it just might be the last cookbook you'll ever need.

With a foreword by Michael Pollan.
"Just reading Salt, Fat, Acid, Heat will make you a better cook, adept at seasoning, balancing, understanding what it really is you're doing and why... Make room on the bedside table—and the countertop." - Bon Appetit

"I talk about Salt, Fat, Acid, Heat the way people talk about beloved pets or newborn babies; like I was a different person before I read it – and I was. I liked to eat, but hated to cook. I was a huge proponent of what I called "snack dinner," basically whatever I had that didn't require a cooking implement. Samin Nosrat (and illustrator Wendy MacNaughton) set me straight. Together they debunk the concept of recipes, instead teaching you how to build food (and flavor) from scratch and by instinct. Salt, Fat, Acid, Heat uses its eponymous guiding principles to chart a very delicious course toward never eating snack dinner again." - NPR.org

"My favorite metacookbook...[Nosrat] offers a beautifully simple checklist for ensuring a dish ends up in a good place...This is the book of cooking grammar that so many novices would benefit from...Salt, Fat, Acid, Heat is written smoothly and casually, and kept breezy via charming watercolors by the perceptive Bay Area artist Wendy MacNaughton...Nosrat's book would be of value both to people who don't consider themselves cooks and to people actively striving to become better ones." - Atlantic

"Inventively illustrated...ambitious...[Nosrat is] a talented explainer." - Wall Street Journal

"A cookbook that will make you a better cook...with helpful, charming illustrations from artist Wendy MacNaughton." - Boston Globe
Samin Nosrat is a writer, teacher, and chef. Called "a go-to resource for matching the correct techniques with the best ingredients" by The New York Times, and "the next Julia Child" by NPR's All Things Considered, she's been cooking professionally since 2000, when she first stumbled into the kitchen at Chez Panisse restaurant. She lives, cooks, surfs, and gardens in Berkeley, California. Salt, Fat, Acid, Heat is her first book.

Wendy MacNaughton is a New York Times bestselling illustrator and graphic journalist whose books include Meanwhile in San Francisco (Chronicle), Pen & Ink (Bloomsbury). The Gutsy Girl (Bloomsbury), and The Essential Scratch and Sniff Guide to Becoming a Wine Expert (Houghton Mifflin Harcourt). Her work appears in publications like The New York Times, Lucky Peach, Bon Appétit, AFAR Magazine, and elsewhere. She is the back page columnist for The California Sunday Magazine.
April 25, 2017.