Vendor- Higgins, Tim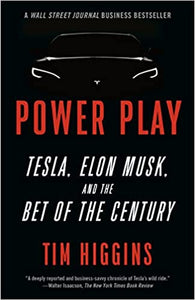 Power Play: Tesla, Elon Musk, and the Bet of the Century
Higgins, Tim
Regular price $17.99 Sale
Tesla is the envy of the automotive world.  Born at the start of the millennium, it was the first car company to be valued at $1 trillion.  Its CEO, the mercurial, charismatic Elon Musk has become not just a celebrity but the richest man in the world.

But Tesla's success was far from guaranteed. Founded in the 2000s, the company was built on an audacious vision. Musk and a small band of Silicon Valley engineers set out to make a car that was quicker, sexier, smoother, and cleaner than any gas-guzzler on the road. Tesla would undergo a hellish fifteen years, beset by rivals—pressured by investors, hobbled by whistleblowers. Musk often found himself in the public's crosshairs, threatening to bring down the company he had helped build.
 
Wall Street Journal tech and auto reporter Tim Higgins had a front-row seat for the drama: the pileups, breakdowns, and the unlikeliest outcome of all, success. A story of impossible wagers and unlikely triumphs, Power Play is an exhilarating look at how a team of innovators beat the odds—and changed the future.
Paperback, Aug 30th 2022