Vendor- Paige Tate & Co.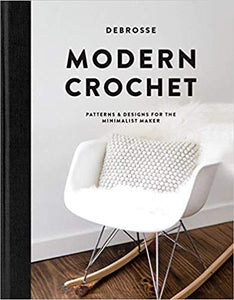 Modern Crochet: Patterns and Designs for the Minimalist Maker, by Debrosse
Paige Tate & Co.
Regular price $24.99 Sale
A comprehensive guide for beginning and experienced crocheters alike, Modern Crochet elevates the craft for a new generation of makers. Learn how to choose proper tools, understand all things yarn, proficiently read a pattern, and autonomously complete any crochet project. This definitive resource for contemporary crochet includes:
16 ORIGINAL PATTERNS
Basket - Coaster - Wall Hanging - Infinity Scarf - Bobble Pillow - Faux Fur Cowl - Velvet Scrunchie - Oversized Throws - and more! ($80 value alone)

EXTENSIVE TEACHING & SUPPORT
150+ Step-by-Step Photos - 25+ Video Tutorials - Corresponding Online Resource Library with Materials and Support

REFERENCE CHARTS
Complete Crochet Abbreviation Legend - US Hook Sizes

15+ STITCHES & TECHNIQUES
Magic Ring - Short Rows - Standing Stitch - Joined Turned Rounds - Continuous Rounds - Joined Rounds - Chain - Slip Knot - Whip Stitch - Slip Stitch - Single Crochet - Double Crochet - Half Double Crochet - Herringbone Half Double Crochet - Treble Crochet - Bobble Stitch
REVIEWS:
"Teresa Carter is a perfect teacher, blending her well-honed craft with a singular sense of style. In her techniques, crochet is artfully pared down to the essentials and the simplicity of stitch. It's her modern aesthetic and minimalist's touch that makes crochet accessible to anyone of any skill level."
—Martha Stewart Living, Alexandra Churchill

"I was fortunate enough to participate in one of Teresa's workshops when she visited Etsy's HQ for a special event. It was my first experience with crochet and I immediately fell in love with it. I was able to create an intricate and beautiful piece of art by following Teresa's comprehensive tutorial. Her step-by-step photos provide excellent support and the guidance necessary to make everyone feel like a crocheting expert."
—Etsy, Alexandra Ketchum

"With this pathbreaking book of elegant, simple designs, Teresa Carter has elevated the craft of crochet. Anyone who picks up this book is going to say 'I want to do that!'"
—Lion Brand Yarn, Ilana Rabinowitz

"Whether you're a beginner or advanced, there is much to learn here! Teresa is elevating the way we think about crochet, and breaks it all down in the most thoughtful and empowering way."
—Isabella Diaz, Community Specialist at Etsy.com
About the Author
Teresa Carter lives in New York City with her husband. She is the founder and creator of DeBrosse, a full-service knitwear brand. She has sold over 20k crochet and knit patterns to date. Her designs have been featured by Martha Stewart, West Elm, House Beautiful, and more. Teresa leads a Masterclass, empowering other makers to build careers in the crochet and knit industry. She also travels to Haiti each year in support of orphaned children, investing a portion of all DeBrosse proceeds in partner orphanages.

See more at debrosse.com or follow along on Instagram @debrosse_nyc.
Released November 19, 2019