Vendor- Stavans, Ilan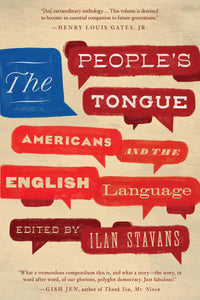 People's Tongue: Americans and the English Language
Stavans, Ilan
Regular price $35.00 Sale
This volume is a kind of people's history of English in the United States, told by those who have transformed it: activists, teachers, immigrants, journalists, nurses, poets, astronauts, dictionary makers, actors, musicians, playwrights, preachers, Supreme Court Justices, rappers, translators, singers, children's book authors, scientists, politicians, foreigners, students, homemakers, lexicographers, scholars, newspaper columnists, TV personalities, senators, novelists, technology innovators, and a bunch of fanatics.

The quest is to understand how an imperial language like English, with Germanic origins, whose spread resulted from the Norman conquest, came to be an intrinsic component of the first and most influential democratic experiment in the world. Edited by internationally renowned cultural commentator and consultant for the OED Ilan Stavans, it is organized chronologically and offers a banquet of letters, poems, autobiographical reflections, op-eds, dictionary entries, stories, songs, legislative documents, and other evidence of verbal mutation. It addresses Ebonics, and Yinglish, Spanglish, and other linguistic concoctions, including sci-fi inventions.
In pages in which the story is not only the what but the how, The People's Tongue starts with samples of the English used by the settlers in Plymouth Colony and it ends with President Donald Trump's tweets.
Hardcover, Feb 14th 2023