Vendor- May, Francesca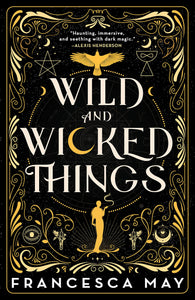 Wild and Wicked Things
May, Francesca
Regular price $18.99 Sale
On Crow Island, people whisper that real magic lurks just below the surface.

But magic doesn't interest Annie Mason. Not after it stole her future. She's on the island only to settle her late father's estate and, hopefully, reconnect with her long-absent best friend, Beatrice, who fled their dreary lives for a more glamorous one.

Yet Crow Island is brimming with temptation, and the most mesmerizing may be her enigmatic new neighbor. 

Mysterious and alluring, Emmeline Delacroix is a figure shadowed by rumors of witchcraft. Soon, Annie is drawn into a glittering, haunted world. A world where the boundaries of wickedness are tested, and the cost of illicit magic might be death.

To those who are bright and young; to those who are wild and wicked; welcome to Crow Island. 
Paperback, Feb 7th 2023