Vendor- Marcus, Halimah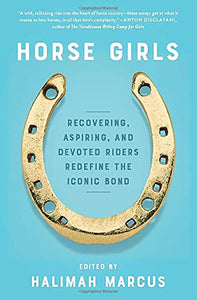 Horse Girls: Recovering, Aspiring, and Devoted Riders Redefine the Iconic Bond
Marcus, Halimah
Regular price $17.00 $17.00 Sale
As a child, horses consumed Halimah Marcus' imagination. When she wasn't around horses she was pretending to be one, cantering on two legs, hands poised to hold invisible reins. To her classmates, girls like Halimah were known as "horse girls," weird and overzealous, absent from the social worlds of their peers. 
Decades later, when memes about "horse girl energy," began appearing across social media—Halimah reluctantly recognized herself. The jokes imagine girls as blinkered as carriage ponies, oblivious to the mockery behind their backs. The stereotypical horse girl is also white, thin, rich, and straight, a daughter of privilege. Yet so many riders don't fit this narrow, damaging ideal, and relate to horses in profound ways that include ambivalence and regret, as well as unbridled passion and devotion.
Featuring some of the most striking voices in contemporary literature—including Carmen Maria Machado, Pulitzer-prize winner Jane Smiley, T Kira Madden, Maggie Shipstead, and Courtney Maum—Horse Girls reframes the iconic bond between girls and horses with the complexity and nuance it deserves. And it showcases powerful emerging voices like Braudie Blais-Billie, on the connection between her Seminole and Quebecois heritage; Sarah Enelow-Snyder, on growing up as a Black barrel racer in central Texas; and Nur Nasreen Ibrahim, on the colonialist influence on horse culture in Pakistan.
By turns thought-provoking and personal, Horse Girls reclaims its titular stereotype to ask bold questions about autonomy and desire, privilege and ambition, identity and freedom, and the competing forces of domestication and wildness.