Vendor- Culley, Betty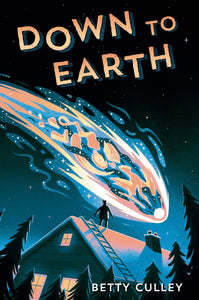 Down to Earth
Culley, Betty
Regular price $16.99 $16.99 Sale
Henry has always been fascinated by rocks. As a homeschooler, he pours through the R volume of the encyclopedia (to help him identify the rocks he finds). So, when a meteorite falls in his family's field, who better to investigate than this rock enthusiast--with his best friend, James, and his little sister, Birdie, in tow, of course.
But soon after the meteorite's arrival, the water in Henry's small Maine town starts drying up. It's not long before news spreads that the space rock and Henry's family might be to blame. Henry is determined to defend his newest discovery, but his knowledge of geology could not have prepared him for how much this stone from the sky would change his community, his family, and even himself.
Science and wonder abound in this middle-grade debut about an inquisitive boy and the massive rock that came down to Earth to reshape his life.