Vendor- Oksanen, Sofi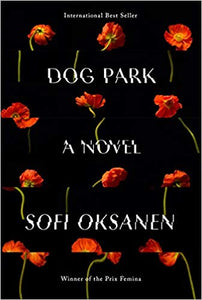 Dog Park: a Novel
Oksanen, Sofi
Regular price $28.00 Sale
Helsinki, 2016. Olenka sits on a bench, watching a family play in a dog park. A stranger sits down beside her. Olenka startles; she would recognize this other woman anywhere. After all, Olenka was the one who ruined her life. And this woman may be about to do the same to Olenka. Yet, for a fragile moment, here they are, together—looking at their own children being raised by other people.
 
Moving seamlessly between modern-day Finland and Ukraine in the early days of its post-Soviet independence, Dog Park is a keenly observed, dark, and propulsive novel set at the intersection of East and West, centered on a web of exploitation and the commodification of the female body.
 
Sofi Oksanen brings fearless psychological acuity to this captivating story about a woman unable to escape the memory of her lost child, the ruthless powers that still hunt her, and the lies that could well end up saving her.
Hardcover, Sept 21st 2021