Vendor- Barbarisi, Daniel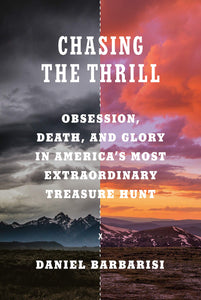 Chasing the Thrill: Obsession, Death, and Glory in America's Most Extraordinary Treasure Hunt
Barbarisi, Daniel
Regular price $28.00 $28.00 Sale
When Forrest Fenn was given a fatal cancer diagnosis, he came up with a bold plan: He would hide a chest full of jewels and gold in the wilderness, and publish a poem that would serve as a map leading to the treasure's secret location. But he didn't die, and after hiding the treasure in 2010, Fenn instead presided over a decade-long gold rush that saw many thousands of treasure hunters scrambling across the Rocky Mountains in pursuit of his fortune. 
Daniel Barbarisi first learned of Fenn's hunt in 2017, when a friend became consumed with decoding the poem and convinced Barbarisi, a reporter, to document his search. What began as an attempt to capture the inner workings of Fenn's hunt quickly turned into a personal quest that led Barbarisi down a reckless and potentially dangerous path, one that found him embroiled in searcher conspiracies and matching wits with Fenn himself. Over the course of four chaotic years, several searchers would die, endless controversies would erupt, and one hunter would ultimately find the chest. 
But the mystery didn't end there.
Full of intrigue, danger, and break-neck action, 
Chasing the Thrill 
is a riveting tale of desire, obsession, and unbridled adventure.